And so we arrive at the most hotly anticipated weekend of the year – the Stone '22 tour! This year's destination was to be a trip down to the south coast to Brighton. The author of this match report was unfortunately pre-booked for the Friday of the Test match at the Oval which, down to the passing of Her Majesty on Thursday, ended up being cancelled anyway. At least we got our money back. This also means that I cannot comment on any Friday night shenanigans that may have occurred [the following photograph gives a decent reflection of the celebrations at around the midway stage – ed.]
Needless to say, there were a few rather delicate gentlemen rocking up for the first fixture against Nutfield CC, which ain't near Brighton at all, but on Wednesday afternoon I reckon we'd have taken a fixture in Scotland…
This weekend also saw our crocked Skipper turn 30, and he donned some knee scaffolding to return to the side and give me a rest from having to think every week. He (won/lost) the toss, and he and I resumed our regular opening partnership on what looked like a very wet deck. This was proven to be the case when I sent him back after he called for a single and left a three-foot skid-mark along the side of the pitch. Dicky very kindly allowed me a four when he began doing his audition for Dancing on Ice while fielding for the oppo, while Skip walloped a few fours himself as we pushed on to 37/0, before I got a peach of a yorker and departed bowled for 12. The skipper went two runs later, holing out for 21, which meant a 2022 debut for Beef in at four, partnering the good Lord for a short time before the big man went for just 5. Gracie's form has come good lately, and he carried on his recent good work with Rossington as they piled on 58 for the 4th wicket, before the Lord was out bowled for a decent 32. An old face was in next, as Matty G returned to the Stone fold for his first game in about four years. Showing absolutely no signs of rustiness, he quickly clubbed his way to 33 in a partnership of 51, before popping up a return catch to the bowler. Ryan (1*) saw the innings out with Gracie, who finished up with a fine 44*, which he found terribly annoying, with the total at 164 for 5 from our allotted 35 overs.
Nutfield provided a decent tea which was happily consumed before the attack began. My good friend Dicky was asked to open for Nutfield, and did a sterling job of not scoring any runs for the first eight overs of the reply. He eventually went LBW to Dory of all people, to cap a wonderful day. I think he saw the funny side. Walkie snapped up the next two wickets in quick succession to leave Nutfield 14/3. Paul came on and struck early in his spell, and could have had at least two more but for a couple of drops from the rusty skipper. Muttley – slowly recovering from his Friday session – grabbed the next two wickets, and with the score on 111/6, victory was in sight. A late rally from their Numbers 7 and 8 made for a very tense last over, from which they required 13 runs, but we squeaked over the line for an 8-run victory. A tight last over from Matty G, conceding only four runs, helped to see things home.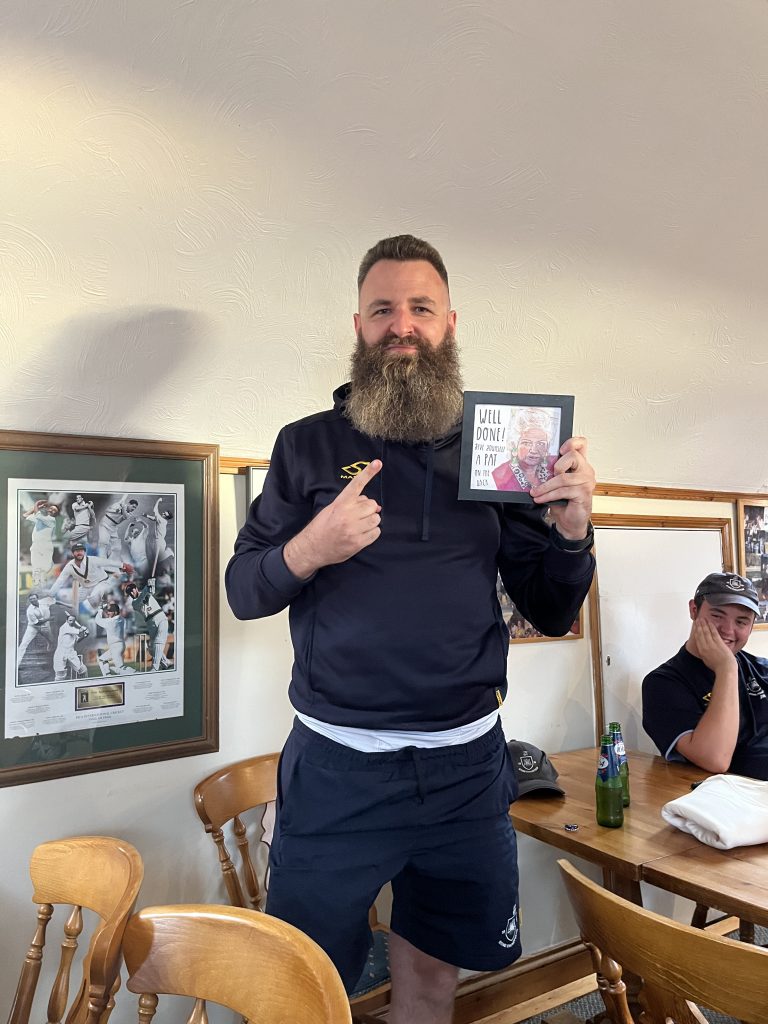 We enjoyed a couple of victory beverages in Nutfield's fine pavilion bar (very hopeful of a return there next season), before making the return trek to Brighton and its delights for the evening. Gracie took Big Pat back to the hotel for the night, while Skip commandeered the Shitbag trophy for his two drops.
TO BE CONTINUED