And so, we moved on to our favourite fixture of the year – Teston away. A pretty strong Stone line-up made the trip with the weather decidedly stuffy. I am assuming Skip lost the toss because I don't remember him winning one this year and Teston strode out to bat first [fortunately, this was recorded in the book and it looks as the Skipper did indeed call correctly on this occasion and backed us to chase whatever they scored – ed.].
The first chance was belted through me off Dicky's mortar-bomb bowling early on, before Dicky's main rival in the bowling charts dropped a dolly at mid-on. Tom says he didn't mean it, but we have suspicions… Skip let one through his outstretched hands a short time after off the bowling of Slates, before Paul got in on the drop action by attempting a one-handed catch at backward square leg. Dicky finally got his reward when one of their openers top-edged one straight up and Stumpy held on, with the score on 38. Chungy and Skip combined to take the second wicket, before Tom and Rossington teamed up to take the third, with The Lord holding on to another skyer at point. Walkie Talkie finally got himself another wicket as Stumpy held onto an edge at the second attempt, shortly before their other opener moved to his 50. Walkie sneaked through the defences of their Number 6 shortly afterwards, before throwing an arm at a straight drive by the other opener, which deflected the ball onto the stumps and removed the half-centurion in a cruel, unlucky and – judging by the assembled Teston crowd – hilarious manner. Skip dropped a dolly at cover a little while later, Gracie couldn't hold on to a running chance at square leg, then Walkie grabbed a third wicket with an LBW. Stumpy lived up to his name by stumping their Number 9 just before the end to give Keenan a notch on the board. Teston finished on 161/8 from their 35 overs.
Tea was interspersed with reports of Zak Crawley edging all sorts of shit at Lord's, inspiring Chungy to do something similar with his first (and only) scoring shot of the day before he fell to a straight one a ball later. A limping Lord Rossington watched me hit three 4s before I walked down and yorked myself for 14. This brought the Skipper in, and, as I had suspected, it was made for him to go fackin' BIG. With great support from The Lord, he mullered absolutely everything to the fence on his way to an excellent 80. Skip finally fell with the score on 149/3, to allow Gracie enough time to edge one just short of slip before he swept a lovely 4 to see us home, with The Lord still there at the end on 48* after a fine innings, excellent jug avoidance and perfect average protection.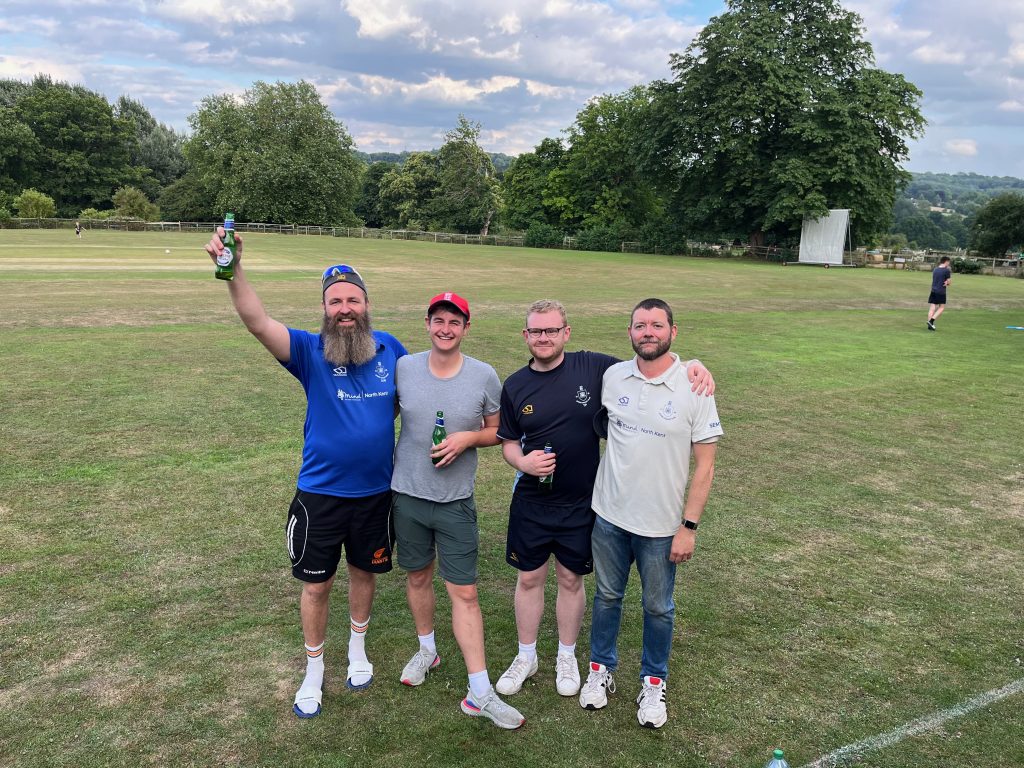 Clearly the Skip would enjoy the comforts of Big Pat, though he would share Shitbag with the other members of Drop Club this week (pictured above). Could we finally take the victory at home next week…?
– Bill