The availability issues that have bedevilled us in the first half of the month are nowhere in evidence when it comes to the away game against Teston, one of the nicest grounds that we visit each year. This week's fixture also sees the welcome return of Mr Cameron Miller, who travels down to join us despite the challenges created by the rail strikes. Billy resumes the captaincy, but we have the same outcome as last week (in almost every sense, as it turns out) when the toss is lost and we bowl first in a 40-over game.
Things begin promisingly, with Walkie sending down his opening spell of four overs for just six runs (including two maidens), while Sash strikes in his second over to claim the wicket of their Number 2 (cracking good reaction catch over his head by the skipper, it must be said). However, extras then become a problem, with a combination of factors (whether bowling radar or umpire calls) coming into play. That we end up conceding a total of 35 extras (the second highest score of their innings) tells its own story. Richard is carrying a shoulder injury which affects what proves to be his only over. The spinners generally have the better of things – Dino takes 2-16 off 8 (3 maidens), Camo gets 1-21 off 7 (2 maidens) although he might have had two if he had held a low caught & bowled chance, and I take 1-23 off 3. However, their skipper finds the boundary regularly in his innings at Number 7, with eight 4s in his unbeaten 43, and was also very good at taking quick singles off our quicks. He could have been run out towards the end of his innings if Walkie had taken a gilt-edged chance after a mid-pitch collision (he had done similar to get rid of their Number 6 in the previous over), but… well, I'll let the video speak for itself (stay tuned for the hat and glasses at the end):
Suffice it to say, there was quite a reaction in the field which is available in the full fat, too-hot-for-TV season highlights reel. However, the following still gives a flavour of the type of commentary that TMS is crying out for: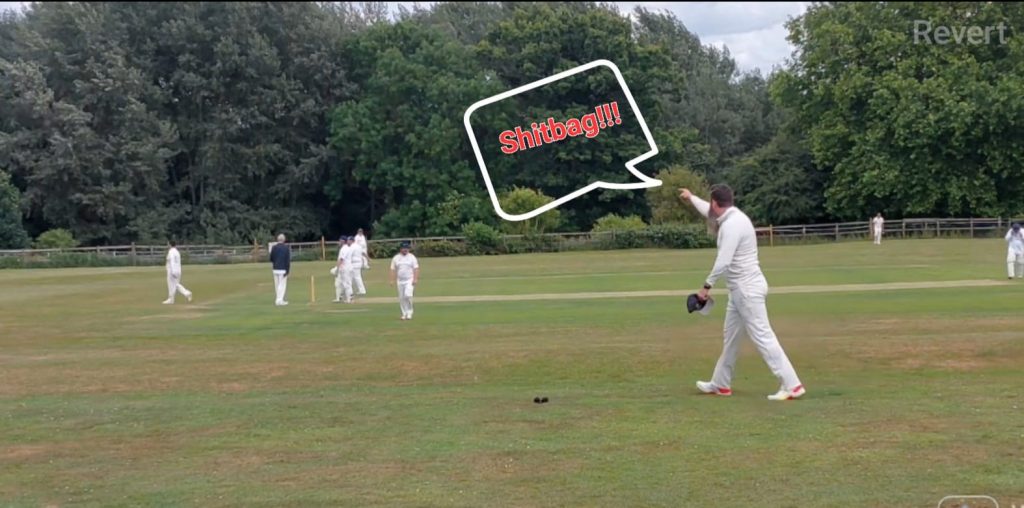 The oppo bat out their 40 overs for a total of 165/6. Once again, this total is within our capability to chase, especially in the number of overs available…
Our opening pair is restored after the Dutch interlude last week, but Teston's bowling is very tidy. Dan is the first to go, bowled in the second over by one that takes the top of off stump. Mike comes in a plays some good shots but is also clean bowled for 11 (two 4s). Billy is joined by Ross for a stand of 24, and the skipper is determined to finally get some runs at Teston. Some big hitting, including four 4s and a massive 6, sees him get to 30 before he holes out to his opposite number. Ross is then joined by Sash, but doesn't last too much longer, caught in the deep for 8. Sash and Stumpy then dig in and accumulate steadily but slowly. At the end of the 30th over, we have reached 108 for the loss of four wickets when Sash is caught for 14. The RRR is tricky but still possible, not least because Walkie can certainly hit the ball. However, he doesn't get the chance, getting clean bowled for a two-ball duck. Camo comes in for his first innings of the season and keen to hurry things along, but Stumpy then departs to a decent catch to leave us 110/7 with only 7 and a half overs left. Richard gets a run with his first ball, but then hits up in the air off his fourth with Nelson on the scoreboard. I come in at Number 10 and Camo hits a few boundaries to take the score to 129, but he is then bowled. Dino at Number 11 comes down the pitch to the bowler on his second ball but skies the ball straight up and the keeper takes a straightforward catch to wrap up our innings – all out for 129.
Suffice it to say, there was no debate about the destination of the Shitbag award after the game (see above for AV evidence submitted by the prosecution). Big Pat was awarded at the pub afterwards, with Billy earning her womanly favours for the week after his innings of 30 (Dino's 2-16 was a close contender). This was yet another game this season that, with a bit more batting or in a timed situation, would have turned out differently for us. Oh well…
– Paul