The penultimate fixture of 2021 saw Stone venturing down to Bromley Common for a bash at their 4th XI, at their second ground which we would give many limbs to have as our own. In decent weather for a change, and on probably the best track we've had all season, Rossington defied convention and flung us into bat, which surprised me (still asleep) and Vice (not even here yet). Eventually Vice fell out of Ryan's car and straight into his pads, and we walked out to face the first over, which went for six runs and a splendid start.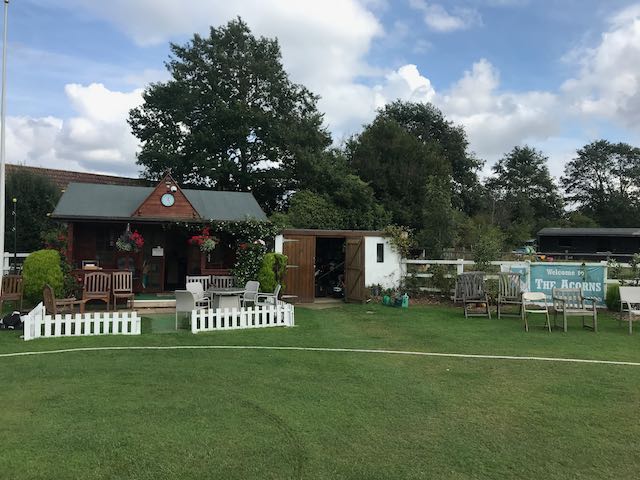 The start of the second over saw the end of me, perishing to a catch from GavinJUDASSSS who was subbing (along with Lil' Will) for a couple of Bromley lads who hadn't turned up yet. As the two boys who replaced Gav JUDASSSS and Will were all of 3ft 2, the ball would have cleared the infield easily… Anyway, I'm not over it and never will be. Gav suggested I shouldn't have played such a crap shot, but that's besides the point. In at Number 3 was Dicky, who decided umpiring was the best way to spend the Bromley innings as he strangled his first ball down leg side into the keeper's gloves. Today's number four was Gracie, who could only look on in horror as Vice chopped one on shortly after – luckily off a no-ball. Vice then clubbed some customary 4s and offered at least two more chances to the fielders before his luck ran out on 11, caught at mid off. His brother replaced him without success, popping up an easy caught and bowled a few balls later. Not many for four wickets down, and Gracie (who scored seven, again) made it not many more for five a short time later as a huge hoik across the line at a straight one spelled doom, and sent the bails flying. Rossington dropped anchor and guided Walkie through a few overs, before the usual slow straight one got the better of the young man and he was on his way LBW for 11 (no, it wasn't too high). Candyman was next in, and looked good for a bit – pretty sure I remember a reverse sweep being pulled of the locker at one point – before he toe-ended one to mid-wicket for 7. Paul was pulled away from the luxuries of the electronic scoreboard/beer/shed/comfy chair to join the skipper, who was quietly piling on the runs at the other end. After Ross hit one behind point, our erstwhile scorer decided to start marking his guard before the ball was lobbed back in – their keeper was not going to miss such a gift and whipped the bails off in delight. Luckily, Bromley's skipper was in a sporting mood (at a rare point where he wasn't changing the field, jeez) and withdrew the appeal. Paul then stuck around for a while, but was caught in the slips for a 16-ball duck. Gav JUDASSSSS was in next and accumulated his best score for Stone (ten) before he departed bowled to leave Lil' Will the responsibility of helping Rossington to a long overdue 50, which duly came in the 38th over. The skipper wouldn't get past the bullseye however as he was run out a couple of balls later, with Stone managing 129 in what felt like the three and a half years we were batting.
After the misery of a) our batting performance and b) an eternity listening to relentless field changes, a rousing talk from the Skipper about playing this stupid flippin' game in the right way was all Candyman needed to engage top gear in the fielding chat, and off we went, discussing meat, potatoes (addition of paprika was controversial), seasonal veg, Gracie's £18 socks, and just who the hell was behind the mask? Amidst all this, Walkie and Vice were steaming into the openers, with those Garratt Bros combining to get rid of wicket number one, Ryan taking a good low catch. Candyman took a break from trying to choose between turnips and parsnips to bag a wicket with what he described as an "utter pie". Then came probably the catch of the season from Lil' Will, as a big skyer off their opening bat came his way, and he dived full stretch to hold on to a brilliant grab to give Candy his second wicket of the day. Around this time Gav announced he was positioned "just inside Dicky", and Walkie then drew the edge off Bromley's best youngster – who wasn't going to walk, tut tut – before suggesting baked beans were a good addition to a roast dinner. He was promptly banished to deep cover for such silliness. The tale of the rest of the Bromley innings was a bunch of easy catches off Walkie and Dicky's bowling, including another for Scrappy and one each for Paul and myself, before Vice finally got their keeper LBW, and Will was rewarded for a nightmare bowling spell with the final wicket, that of their skipper – all is forgiven in light of his magnificent catch though… Everyone else bowled well, though best figures went to Dicky with 3-9 off 7, with three maidens, as we claimed victory by 25 runs in rapidly fading light.
After some semi-naked celebrations in the changing rooms, we decamped to the side of the field to partake in beer, cigarettes, insults, and awards. The good Lord Rossington has the luxury of Big Pat in what may turn out to be his final competitive game as skipper (I've just checked the forecast for Saturday), while Paul somehow pipped Gav JUDASSSSS to Shitbag this week, for a number of misdemeanours (the guard marking incident, a 16-ball duck, adding paprika to his roast potatoes, etc, there may have been more…) [I can have no complaints on the run-out incident, but I draw the line at questioning my innovative approach to the traditional roast – ed.]
– Billy