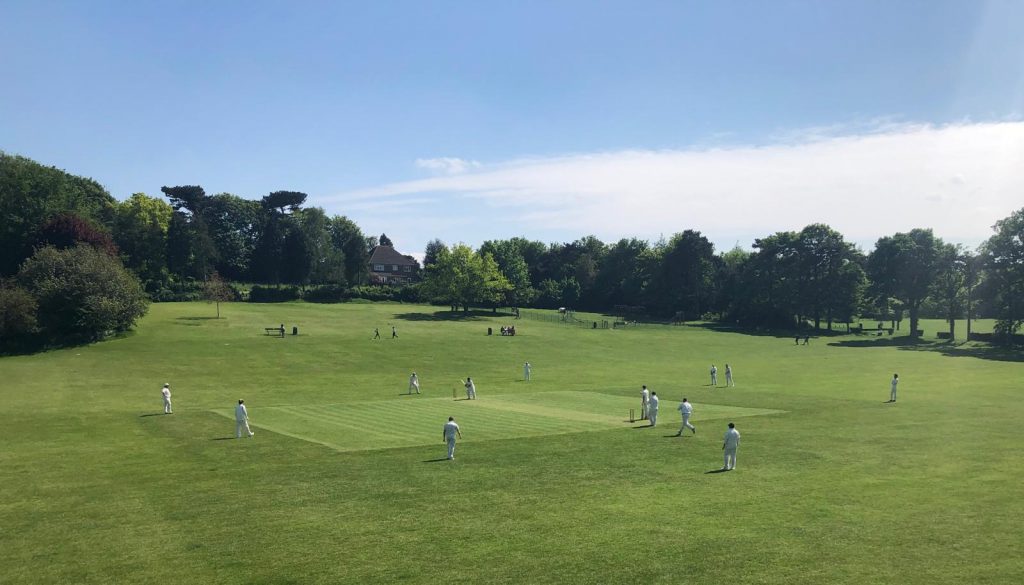 The May Monsoon season finally relented this week after three consecutive washouts to leave us with a gloriously sunny day at Oakfield Park as we took on Old Colfeians in our first home game of the season. Prior to play our magnificent new kits were handed out and obligatory team photos snapped – thanks to Ryan for his hard work in getting the new attire sorted and to club legend Sandy Message for his generosity.
On to the game and Rossington negotiated the usual timed game and stick 'em in tactic with the oppo captain. It was quickly established that the tone of Old Colfeians innings would be 'filth'. Batting filth, umpiring filth and some occasional bowling filth resulted in OC being reduced to 45 all out in not much time at all. Sashi grabbed a couple of wickets (2-2), King Louie racked up the maidens without reward (0-4) plus one apiece for Walkie (1-6) and Paul (1-5 – his victim being Dino who we loaned to OC as they only had nine players, top scoring for them with 11), but the star of the filth-fest was Dicky Pusey who grabbed the first Stone 5-for in a couple of years, ending his spell with an excellent 5-24 to get his name on the honours board and secure the player of the day award.
Vice and myself (not as injured as last week but still a bit injured) decided we would have a race to see who would score the most boundaries in what should be a brief run chase. This contest ended minutes later when I top edged the only ball that bounced higher than six inches all day to cover for 3. Next in was Gracie, coming off his excellent 37* at Ide Hill. First ball went to the fence, followed by a block, followed by a brain fart of epic proportions as he left a loopy straight 3mph ball and was bowled – give that man Shitbag. Were Stone going to make hard work of chasing a paltry 45? Entirely possible on this pitch but not this time as Vice continued his good form to smash 38* and see us home comfortably by 8 wickets.
A few of the thirstier lads were edging towards an extended session in the pub, but as it was only 3pm when the victory was secured a quick T10 game was in order first. Skip handed over the reins to Vice for this as Stone batted first and put up a score of 56 despite Sashi's attempts to block out their attack, myself top scoring with a quickfire 12. Old Colfeians put up a better fight in the run chase but fell 9 runs short in an enjoyable game, wickets for Vice, me (thanks Stumpy) and a few others (including one for Paul in a nerveless final over to seal the win). A double victory and a good few pints watching a crap Champions League Final capped a great day all round.