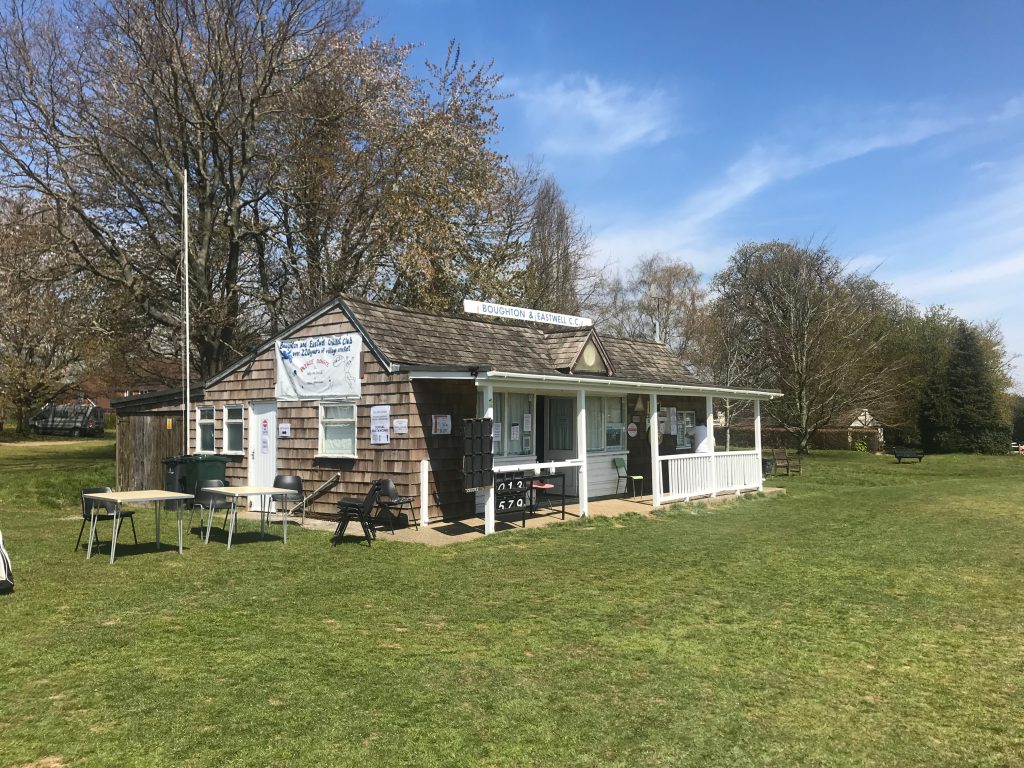 New season, same old Covid restrictions, meaning a distinct lack of pre-season nets to tune up those glorious cover drives and toe-crushing yorkers. After a bit of a faff with the original oppo pulling out or something (scared probably) at short notice, our fixture sec pulled it out of the bag and got us an away game v Boughton and Eastwell, which is somewhere near France.
On a beautifully sunny day (mind that chilly breeze though) Skip did his usual trick of winning the toss and sticking 'em in first, which went well for the first hour or so as we had them 77-5, wickets shared among Slates (2-16), Chungy (1-40) and Sashi (2-15) when he wasn't busy appealing for LBW's from backward point. It was at this point that Steve Smith and Marnus Whassisname came in and proceeded to larrap everything we threw at them into the nearby back gardens. Walkie (1-70) eventually got one through Steve Smith two balls from the end of their allotted time to leave us with a target of 219.
The run chase began with Stumpy and Chungy striding out to the middle, regular opener yours truly having injured himself (again). Stumpy hung around for a good half an hour until he went for 7 bringing Muttley to the crease, he and Chungy putting on almost fifty before Muttley was suddenly walking towards us, given out after an apparent LBW that nobody on the field had appealed for. Skip dragged on his second ball before Gracie popped one straight back to the bowler for 3, 78/1 quickly becoming 83/4. My turn to limp out and join Chungy in an effort to help him get a well deserved half century. Sadly on 47 he fell after a fine knock featuring seven boundaries. Slates came to the crease next and was out LBW at least twice before the umpire got bored of the oppo's screaming and gave him on the third go for 11. Sash then launched one 100ft into the air for a second caught and bowled of the day, while I eventually perished four balls from the end of the innings for 17 after heroically batting through the incredible agony of a pulled calf muscle. Skip remarked I looked better on one leg than two, the cheeky swine. Paul and Walkie managed to see out the final over ending our attempts on 123/8.
Awards were decided in the pub handily placed next to their ground. I don't know where the Big Pat award has disappeared to but Chungy's excellent knock saw him awarded player of the day. Sashi ended up with SBOTD for repeatedly doing press-ups in the middle of the oppo innings. A decent start to the 2021 campaign.