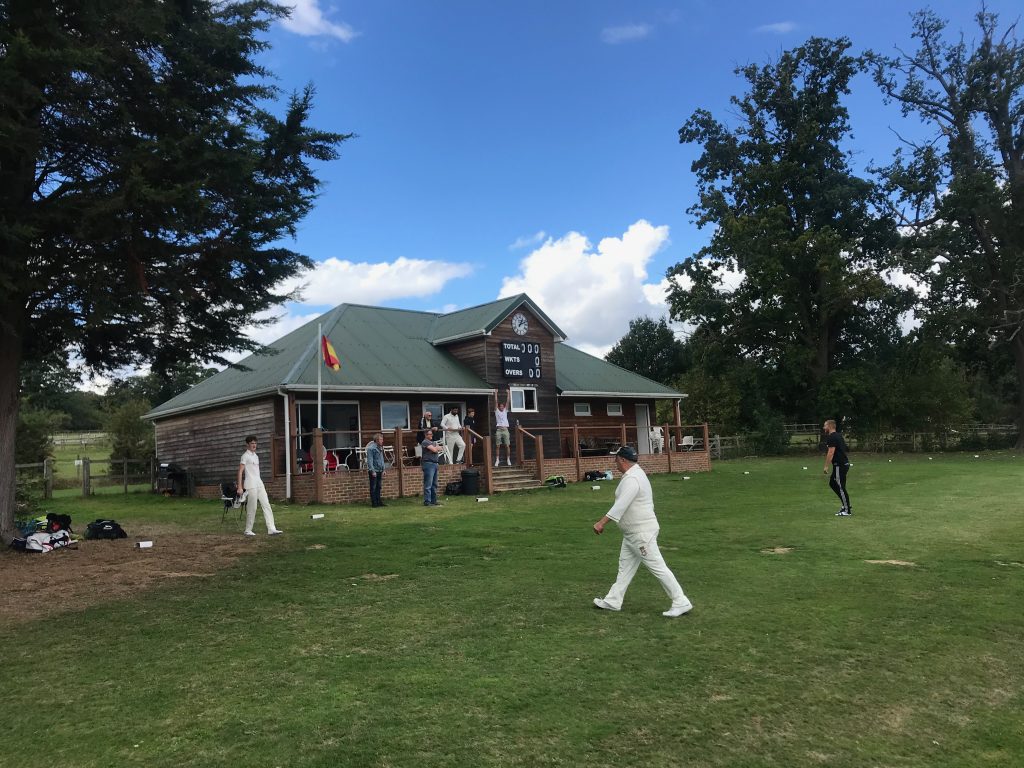 After being denied the chance to play the previous week by damp conditions, the team trooped on down to the Kentish countryside to take on Teston at their picturesque ground. Having arrived in various dribs and drabs and after announcing that this is his perfect ground (beautiful setting, ladies riding around on horses) the skip marched out to the middle and won the toss and we would be bowling first in a 40 over game! We had plenty of support on the sidelines too with the family Garratt, Emilia sporting a natty blue & white Stone influenced hat seemed rather nonplussed by it all as she relaxed on the sidelines with mum and grandad. Our live match reporter Gavin would be keeping the throngs of supporters up to date with live updates on Whatsapp and Billy sat under the tree with fully on hoody and shades giving it the mean and moody look like he was contemplating a forthcoming album release.
Opening up with Sash and Muttley, the bowling is tidy and straight as Teston struggled against their accuracy, the first runs don't come till the fifth over of the game, the sixth over however goes for 18 as Wilson starts to open up his shoulders and move the rate along. Eventually Sash makes the breakthrough as the other opener is caught by Walkie at Square and Teston are 29-1 off 10. A change in bowling sees Ryan come on for the unfortunate Muttley and we are treated to a variety of deliveries that somehow only go for one run of his first over, however he does break through and removes Wilson for 32 through an inside edge. After another double bouncer he traps the next batsmen LBW and he finishes his spell with scarcely believable figures 2-7 At the other end Walkie is taking a bit of tap from Fairway of Teston as they start to up the rate, James "Britney" Jessup is next up to bowl and seemingly has had enough of leg spin and decides to have a go at pace, he is duly rewarded when he strikes with his fifth ball. At the halfway stage Teston are 85-4 and are just about beginning to accelerate. Myself and Vice are the next change in the attack, the batsmen clearly don't fancy the pace of vice and are virtually playing him from Square leg, one pays the price and is bowled, the next over I manage to claim a wicket as the batsmen is deceived by the lack of pace. Teston are going nowhere fast and the bowling is accurate and tight and boundaries are few and far between. Vice eventually claims the wicket of Fairway for 55 being held at mid off by Dan and finishes with 2-26. Walkie claims a wicket near the end to finish with 1-42 and despite a couple of dropped catches, some hilarious fielding attempts and Paul's effort to help Teston along by helping an almost stationary ball over the boundary with his foot, Teston finish on a gettable 154-8 off 40 overs.
As we all tucked into our various combination of Homemade/convenience store deals/lager for tea, the skip sorted out the batting. After much toing and froing, Skip & Vice stride out to the middle, Vice plays himself in by hitting his first ball for 4 and skip is on his way back to the pavillion after an inside edge onto the stumps, Vice is joined by myself as he continues to find the boundaries with regularity, whilst i am unable to locate the middle of my bat, after one huge six Vice tries to repeat the shot and is bowled for a fine 47 off just 29 balls. Muttley joins me at the crease as I nurdle my way slowly up to the twenties, he carries on the attack with a quick fire 25 before being caught, we are ahead of the rate at this stage and Sash comes to the middle. The pace has been taken off the ball and scoring slows, Sash hits one huge 4 which is literally inches from being a six before walking to far across his stumps and his bowled behind his legs for 9. Walkie joins me at the crease and decides he doesn't want to hang around, he duly finishes off the game with three fours & two sixes to finish on 24 not out, I end up with 32 and the win is secured with 8 overs remaining. A 6 wicket win to enable Stone to maintain the unbeaten run. Before we go, the awards…. I believe the shitbag of the day went to Paul for assisting Teston to their total by producing a dubious piece of footwork. Player of the day, slightly more controversial, despite scoring 47 & taking 2-29, Vice is deemed not to be worthy as player of the day in the vote (despite buying the whole team a round) shows his displeasure by emptying a bottle of beer on the floor right before the eyes of Paul who almost faints with shock. It is instead awarded to a player who scored 32 and took 1-23, I thank you! Controversial or not, I am claiming it as it might be another five years before it happens again. Hopefully the wicket will have dried out at home and we can make it an unprecedented 4 wins on the bounce next week.
Teston – 154-8 (Fairway 55, Wilson 32, J Garratt 2-29, R Garratt 2-27)
Stone – 157-4 (J Garratt 47, R Pusey 32*, Tyler 2-14)