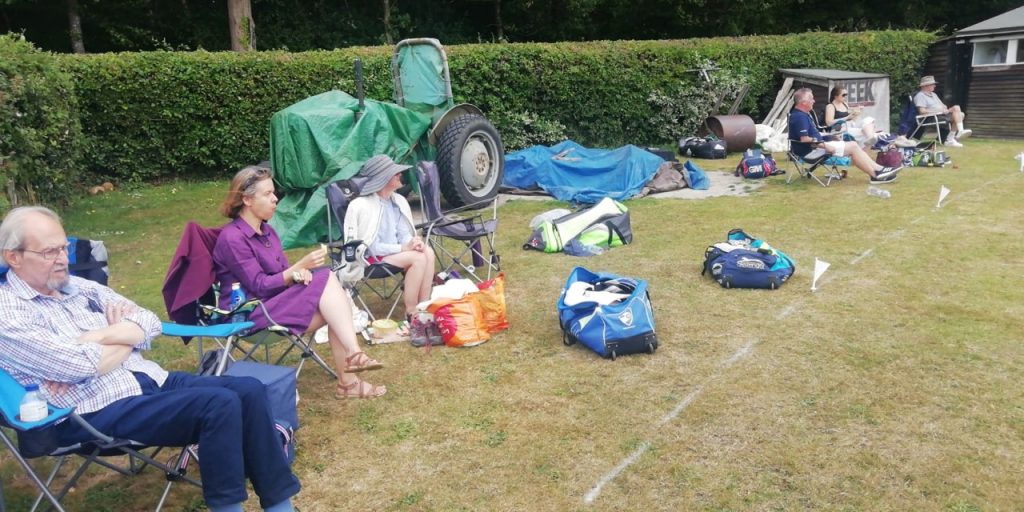 Somewhat akin to some of the football sides emerging from the COVID-19 lockdown, it is fair to say that the belated start to the cricket season has not done Stone CC many favours to date. Two resounding defeats (albeit against considerably stronger sides than we would normally face) and a rain-affected overs game in which we were struggling mean that we travelled to Brasted Chart & Toys Hill (emphasis on the hill when fielding) with a mission to turn things around for the season. Weather conditions were considerably more favourable than the preceding week, with some clouds and a bit of breeze making a nice change from the "too bloody hot" or "stupid bloody rain" of the last few weekends. Vice was skippering the side for the first time this season and promptly won the toss, putting the oppo in to bat, with Rich Pusey bravely volunteering to take the gloves in the absence of both Stumpy and Skip.
Matt Uttley and Alex East opened the bowling but could not find a way through the opening pair, who played conservatively but put away the bad balls. Instead it was left to the subsequent pairing to make the breakthrough: Dino tying up one end and Slates making the breakthroughs, getting rid of one of the openers and then his replacement in successive overs for his first wickets of the season. The other opener and their number 4 had the measure of Double-O and began to find the boundary again, which led Vice to bring himself on. Nick got the other opener at the end of his spell and was replaced by James Jessup, who went for plenty in his spell but managed to conjure up (or buy…) two wickets in two balls in his third over, leaving him on a hat-trick, albeit an unrealised one. Some tidy bowling by his younger brother Will brought no reward. This ushered in the return of Uttley (who finally got a wicket for his efforts), East (no joy), and Dine (wicket with the first ball of his second spell), with the oppo posting a total of 231 for 7 in the time available. Slates was the pick of the bowlers, with 3 for 24 off 6, but it was otherwise a tricky day for us as a bowling and fielding unit – 41 extras conceded (their second highest score)!
Following the what-used-to-be-tea break, we begin the chase with a new opening pair – Dino and Billy, both having volunteered for this duty (and we salute them). It turns out to be an effective partnership, albeit rather more solid than free-scoring – that said, in light of our previous three opening stands this season (namely, 3 in extras, 0, and 4), this is no bad thing. The lawman and the Hawkman put on 61 before Billy snicks behind and the keeper pouches it. Unfortunately Dan, coming in at 3, plays all around his first ball and is cleaned bowled – 63-2 in the 21st over. Vice strides in and sets about things with typical intent, putting on 13 in his first ten balls, but gets somewhat carried away in the chase for runs and calls Dino through for a risky single, which leads to a run out for the latter (on 20). That leaves us on 87 for 3 with 15 overs remaining, with Vice then following with a caught & bowled in the next over, so the character of the reply is shifting from chase to fighting withdrawal. Slates and Uttley are the next men in and demonstrate the fight part of that dynamic capably enough, adding another 23 runs in fairly short order, but both depart with ten overs remaining in the game.
Rich Pusey and Alex East are the next pair, with Rich showing the sort of dogged determination required by scoring one run off his 18 balls faced before being caught out by a straight one and being given out LBW [NB. unlike his previous dismissal this season, which was a travesty, this one was actually out]. The Jessup brother, James and Will, are next to the crease to support King Louie but don't hang around for long – James manages a boundary with his first ball but only adds one more before being clean bowled, as is Will three balls later (without adding to the total). So, the scene is now set for me to help salvage a draw, coming in as the number 11. This is accomplished with a minimum of fuss, thankfully, with the remaining two overs navigated safely and I even manage to score a single off the last ball – result!
With it being an away fixture in these COVID-19 affected times, there are no plans for the pub, so awards are dealt with on the sidelines. Nick Slater receives the Player of the Day for his all-round performance (3-24 from 6 with one maiden, plus 20 runs from 25 balls). James Jessup warns the golden poo for buying his two wickets at 11 runs an over and being out bowled in that department by his younger brother. All things considered, it was a good game to draw. Onwards and upwards from here!