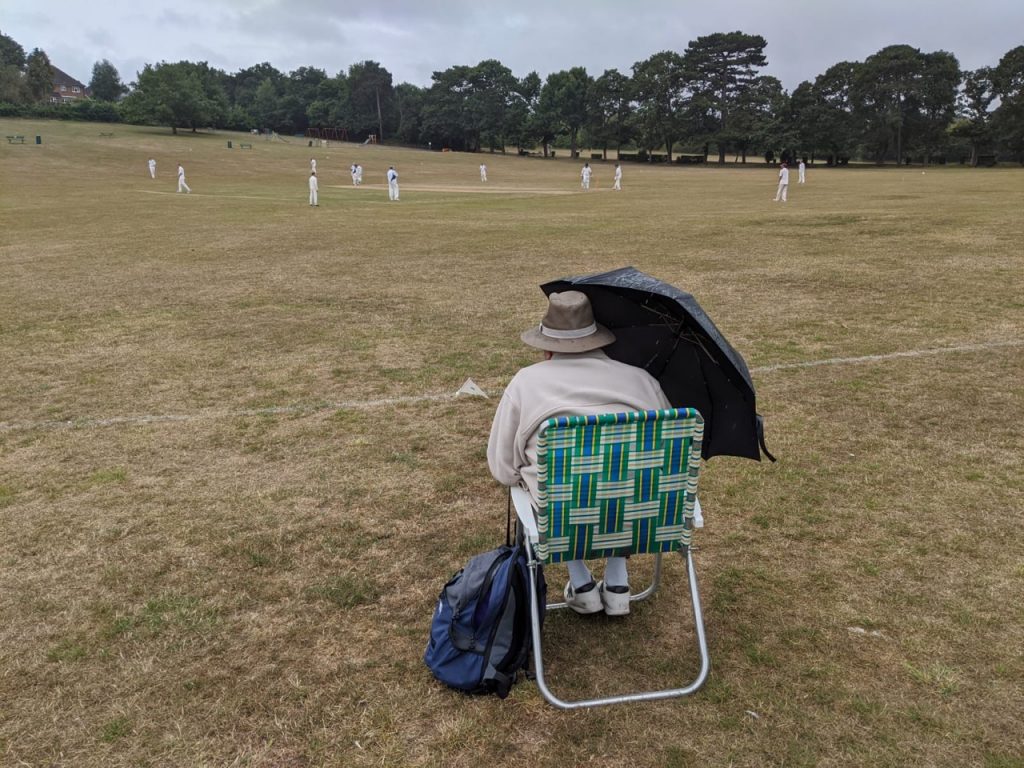 With the uncertainty that surrounded this cricket season because of pesky global pandemics, it was very good to return to some degree of certainty this week, at least on two fronts. Firstly, we can finally welcome visiting teams to the very lovely Oakfield Park, thanks to the much-appreciated efforts of the DCC ground staff in ensuring that the pitch is ready. Secondly, as soon as the cricket has returned, no matter how good the weather has been up to that point, the rain will make an appearance. God bless the glorious British summer in all its whimsical twattery.
Our first guests at Oakfield were Bredgar who have rather put us to the sword in recent seasons, albeit our preference for timed games has tended to save us somewhat. In view of the weather reports, which promises monsoon conditions by late afternoon, Vice agrees to a game of 24 overs a side, with COVID-19 precautions ensuring that the tea break can be kept to a bare minimum. He then wins the toss and puts the opponent in to bat first, trusting to our bowling unit to keep their score to something chase-able in such a limited overs game.
Best laid plans and all that, their opening pair – which includes their skipper Tim – proceed to put on 83 in the first 16 overs before (generously) deciding to retire and let some of their other players get some time in the middle. Most of our bowlers go for a run a ball plus, although there are a few fluffed chances in the field to add insult to injury. Finally, with two new batsmen at the crease, Chungy makes the breakthrough, having been held in reserve until the latter stages, and takes 2 for 9 off his 3 overs (his last is a wicket maiden). Vice decides to lead by example and gets their number 5 batsmen for a duck (finishing with 1 for 2 off 1) – I make up for an earlier drop with a solid take at gully. Their final wicket comes with a run out off Chungy's last ball in the 24th over, with their total at 127-4.
With conditions closing in, the turnaround is quite quick and we set about our reply forthwith. The call for volunteers to open has been answered by Billy (coming off his 25 last week) and Camo (seeking redemption for his duck in the first game of the season). In both cases, they play to form – Billy settles in reasonably well and gets into the 20s again (he is caught on 22 this time) while Camo is out to his first ball. Vice strides to the crease and plays a big shot with intent off his first ball, but it doesn't quite carry and he is caught in the deep for a duck – two wickets in two balls in the second over!
This turn of events catches our putative number 4, Stumpy, on the hop as he has been socialising with the crowd instead of padding up – a cardinal sin for the veteran, surely? But who is padded up… me, because I always do it at the start of our innings as I hate doing it between overs while also trying to do the scorebook. So, torn away from the scorebook, I come in at 4, with the score on 4-2 off 1.2 overs. I figure the plan is to stick around a bit and get some quick singles to keep Billy (the better batsman) on strike. This plan works for 11 balls (during which time I score 2 and Billy scores 6), but then I hit a lofted shot that their midwicket probably should have caught, shout for and then set off on a run (described by our man on the sidelines, Gav, as 'never on'). Billy, either amazed that the fielder didn't take it or taking a similar view to the peanut gallery, demures and I can't make it back in time. Run out, again… I suppose, at least I didn't fall over this time…
Billy redeems himself by staying in and playing some good shots, including a lovely 6 (which he later dedicates to my sacrifice), with Stumpy at the other end keeping things tidy. When Billy holes out on 22, Chungy comes in to continue the good work before the rain arrives in a serious fashion and the match has to be abandoned; Stumpy on 14 off 37 and Chungy on 8 off 15, with our total 49 for 4.
It's a disappointing way to end the game, especially as it's not even 4pm at this point, but the weather precludes any hope of continuing and so we bid farewell to Bredgar in order to head to the Malt Shovel for an extended debrief. No awards this week as there wasn't quite enough of a game upon which to base the voting. However, as befits the aftermath of the first home game of the season, it is a boozy affair with a memorable anecdote along the lines of what can only be described (with a hat-tip to the '70s films of Robin Askwith) as "Confessions of an Online Dater".