Another weekend, another game at Oakfield Park, and this time we are hosting Tonbridge Foresters, led in inimitable style by their Kiwi captain. Aiming for a repeat performance of his earlier success as stand-in skipper against Borden, we are led by Jack Rogers and, in contrast to last week, we have been provided with 10 players by the powers that be. However, while that side of things has been shored up, there has been (to quote the excellent 'Fall and Rise of Reginald Perrin' – one for the kids there) 'a bit of a cock-up on the catering front', with no-one scheduled to provide tea! This leads to a suitably supplicatory telephone conversation with my better half to get supplies in and then asking some of our loyal supporters to pitch in once they arrive – all of which is greatly appreciated.
The game itself goes considerably better than matters off-field, with Jack winning the toss and then unleashing a very strong bowling attack, led by Walkie and King Louie in overcast conditions. They promptly deliver a resounding blow against the oppo's top order, with four wickets falling for only 22 runs inside the first 12 overs. As they are reeling from that, Jack then calls on Sashi and Matt Uttley, with the latter finding a very rewarding line and length to take wickets regularly. Matt's 4 for 19 off 8 (2 maidens) knocks most of the stuffing out of Tonbridge, leaving them reeling on 8 for 66 after 27 overs. Their ninth wicket stand bucks this trend, with the number 7 playing sensibly and ably supported by their number 10, and it is worth 43 runs. Seeking a breakthrough, Jack turns to the old campaigner, Dartsy, who gets rid of both batsmen inside two overs and Tonbridge end on 116 all out.
After the last-minute-but-very-tasty tea (again, thanks to the efforts of Róisín, Melanie, and Rich), we begin our reply. The bowling strength of our side has been clear from the outset, but the batting looks like it might be a bit light. Handily, the opening pair of Stumpy and Jack provide a strong platform for us to building upon, putting on 71 runs before Jack is run out. When Stumpy goes next ball, there is a characteristic Stone wobble. Sorry is run out for 4 (not a great call but Jez, to be fair), Dartsy also goes for 4 (LBW – who'd have thunk it), Walkie and Sashi last a total of 5 balls between them (for a duck and 1 respectively). When Jez is caught for 11 (a decent knock in the circumstances), we have contrived to go from 71-1 to 95-7, with just over 5 overs remaining. This leaves Matt and I at the crease, with conversation in the middle centring to our productive batting partnership at Foxbury earlier in the season. And so it proves again, with Matt getting most of the runs, and me scampering singles to keep him on strike where possible. With two overs remaining and the target only 3 runs away, Matt falls by edging to slip (having just gotten away with a similar shot the ball before), but James comes in to strike the necessary runs off his first two balls and we win a close, enjoyable game, with me on 5*.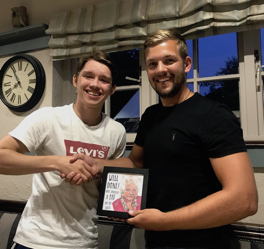 Buoyed by success, we decamp to the Malt for the usual post-match analysis. Sashi is not present, but is nonetheless the unfortunate recipient of the SBotD trophy for an underwhelming day with bat and ball, plus an overly-energetic running commentary on our final overs. Matt gets the Big Pat for his bowling and his contribution to the run chase.