Ide Hill CC kindly stepped in to the breach this week, as our scheduled opposition had to withdraw, perhaps having heard about our demolition job on Borden last week! The oppo have asked for a 35-over game, so there will be an outcome one way or the other. It's a late-summer scorcher at Oakfield Park and we have a strong side, welcoming back Double-O Dino after a period out with injury, so hopes are high for another positive result. These hopes are deflated somewhat when Skip loses the toss and we are asked to bat first in the blazing sun. Dory has asked to open the batting with Skip and his wish is duly granted. However, his fearless 'stand and deliver' technique is better suited to the mid-to-lower order (spoiler alert: see the next report) and he is clean bowled for a duck after only three balls. Scrappy settles rather better and puts on an impressive stand of 73 with the captain before being bowled for 36. He is replaced by his brother, Vice, who is keen to get some runs and hits his first ball for a boundary as a sign of intent. The new pairing put on 30 runs but Vice is undone by his recurrent knee injury, which strikes at the end of a quick single. He is helped from the field and frozen peas (courtesy of Ryan and the Co-op) are applied as soon as possible. The remainder of our innings is slightly underwhelming, with Walkie's 17 (off 15) and Rich's resolute 8* as highlights. We end on 137 for 6 from our allotted overs.
Our bowling starts promisingly, with wickets falling at regular intervals throughout the first 20 overs and the run rate kept to just below 3 per over. While Walkie makes the breakthrough – bowling one of their openers for 4 in the eighth over – it is Scrappy that makes the main contribution with the ball during this period. He takes a wicket in four consecutive overs, including the other opener and their captain, giving him figures of 4-18 off 6 (including a maiden). However, their number 4 is not budging and chips in with boundaries every over or so, meaning that the run rate creeps up, helped by a steady performance from their number 7 (who has also been the pick of their bowlers earlier). Dino, King Louie, and Dory all try their best, but cannot find their way through. Finally, as we enter the last six overs, Skip returns to the opening bowling pair again. In the 33rd over, Walkie gets rid of the well-set number 7 and, two balls later, removes the new batsmen too (thanks to a great one-handed catch by Dory). The 35th over is bowled by the reliable Matt Uttley, but the first ball is a boundary – scores are tied on 137! The next ball decides things, as it flashes to the boundary. It's a loss, but we've pushed it all the way to the final over and they win with only fours balls remaining.
At the Malt Shovel, the SBotD is awarded to the absent Dory (who has gone off to a party) for his performance as an opener and for concealing a bottle in his pocket while fielding, which prompts the unfortunate question 'what has Dory got in his trousers?"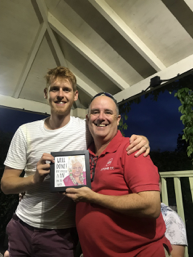 Meanwhile, there is a richly deserved Big Pat for Ryan (despite asking the aforementioned question) on the back of his batting and bowling performance.