This fixture got off to an inauspicious start as our skipper-for-the-day was immediately confronted by a player shortfall, with a miscommunication on the part of the Power 2 (who were both away for this game) leaving us with only 10 men. Handily, we can call on a senior figure in the club who happened to be present because one of his various offspring was playing anyway – step forward Mr Darts, who pops home to get his whites and thenjoins us on the field to roll back the years. This turn of events is just as well, as we are hosting Bredgar, who tonked us for 280+ at their place earlier in the season.
This game takes a rather different path. although it begins in familiar enough fashion. Slates and Dory open the bowling in a tidy fashion, keeping runs to a minimum, but cannot find a way through their steady opening pair in the first 12 overs. Camo replaces Dory and keeps up the pressure. Then their skipper decides to free his arms and hit a few – Slates strikes, bowling him with the last ball of his spell! King Louie is poised to take over and delivers and edge with his very first ball, well taken by Dartsy at slip. Not to be outdone, Camo also bowls a beauty with the first ball of his next wicket and all of a sudden, 48 for 1 has become 56 for 3. Although their number 3 (a fellow Norn Irishman) stands firm (thinking, but not actually saying 'No surrender!'), wickets fall regularly at the other end. Candyman bowls sweetly to take Stone-best figures of 3 for 12 off 7 (2 maidens) and King Louie justifies his royal title with 3 for 14 off 7 (2 maidens also). I get a bowl, unexpectedly, and might have had a wicket too, bar a dropped catch which is almost a mirror image of one from the Reigate game. Anyway, finally, Dartsy Dave sees off the steadfast number 3 for 27 and the rather briefer tenure of their number 10 (all of 10 years old) for a duck, so that they finish with a very gettable 106 for the loss of 9 wickets.
Alas, just as things are shaping up nicely, bitter reality has to go and intervene to bring us back to Earth with a bump. Jack and Blainy start the reply in a slow, but steady sort of fashion – there is plenty of time and not that many runs to get, after all. The former skipper falls cheaply for 6 to a decent bit of bowling, but Dartsy strides out to make it a family affair in the middle, with a promising combination of flair and experience. They add 13 together before Jack hits one in the air and is well caught for 19. Scrappy comes in at 4, but doesn't add to the score before being clean bowled for the first of several ducks in our innings. Adding to that list are Alex (not grounding his bat properly after playing out of his crease), me (run out by Stumpy – no tirade this time), and Camo ('as plumb an LBW as you will see', according to umpire Scrappy). The latter proves particularly devastating, as Camo then has to spend some time on his own in the changing room listening to the Stone Roses classic 'I Wanna Be Adored'. The last wicket stand, another family affair featuring Rich and Dory, is a stark contrast to what has preceded it. Dory's patented 'see ball, hit ball' approach, with a little bit of good fortune in the placement of the aerial shots, adds runs apace and the stand is worth 43. The oppo are looking nervous, as we have reached 93 with 3 overs remaining. However, midway through the 35th over, Dory plays one shot in the air too many and is snaffled in the field. It has been an exhilarating 31, but in a losing cause.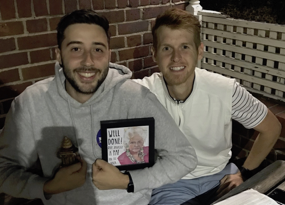 Despite Dory's heroics, debate at the Malt afterwards centres on the Manichaean nature of the Candyman's contributions. From the 'sugar high' of his best bowling figures for the club to the 'sugar crash' of his post-dismissal period of introspection, the voting recognised that he was well placed to merit both the Big Pat and the SBotD for his efforts.