With a strange, but perhaps apt turn of events, our final game of this season sees us return to the Womb, our former home of several seasons before the (entirely beneficial) move to Oakfield Park. While the council have clearly done a bit of repair work to the pavilion in the aftermath of the various break-ins that led to our departure, the vibe is still very much 'urban decay'. Our hosts are nominally Gravesend CC 5th XI but, since we have played against them (and, on one occasion last season, as a joint XI), it is clear from the personnel on show that this is not the 5ths. Rather, it is a mixture of their 3rds and 4ths, which will become apparent in due course. We agree to a 35-over match, which is risky, as our overall results are finely balanced 5-7-5. This will be relevant later.
They win the toss and elect to bat, backing themselves to put on a sizeable total and then bowl us out. This plan looks initially like it might backfire, when Walkie takes their skipper's wicket with his third delivery and Dory gets rid of the other opener in the 8th over. However, their quality begins to tell thereafter. The third wicket stand is worth 35, broken by Dean (making a welcome return to the side for his second Stone appearance), and then King Louie gets another wicket in the following over. That's the closest to a wobble that they come, with the fifth wicket stand worth 46 and only two more wickets to fall in the overs available. King Louie is the best of our bowlers, with 17 for 2 off 7 (including a maiden), and special mention should be made of another wicket by a Stone debutant, this one going to young Will Jessup with only his second delivery for the club. This is in stark contrast to his older sibling, who goes for 37 for none off 6. Jez also chips in with a single over for 29 and me with another worth 11 – say no more. Suffice it to say, their total is a suitably imposing 268 for 6.
It's odd having tea as the visiting side in the pavilion at the Womb – a peculiar blend of familiarity and contempt for our old home, with its new six-foot-high security fence. With this trip down (crap) memory lane out of the way, we begin what is a daunting run chase. Skip has revived the previously-disparaged practice of allowing volunteers to select their place in the batting line-up. As he is keeping, he is batting down the order, so Walkie and Dartsy open instead. Walkie sets the tone by scoring 2 off 11 balls and then getting clean bowled in the third over. Dory then pops in for a quick 3-ball duck, before Seen at least shows more aggressive intent for a 13-ball 6 (including a boundary). This leaves us 31-3 off 9 overs, with only Dartsy standing firm and playing some good shots. James is next to flash hard and then get out (9 off 10 balls, 2 boundaries). This brings in Alex and, as befitting the moniker 'king of the swingers', sets about scoring off the bad balls and leaving the rest alone. This useful partnership has put on 37 when misfortune (and the warm conditions) beset Dartsy. Having run a tricky, but certainly possible 2, he keels over to the consternation of all. This brings a very rapid halt to play as we get him into the recovery position, phone for an ambulance, and contact his family. The emergency services respond very quickly and he is whisked off to Darent Valley Hospital, where they then establish that (thankfully) it is nothing more serious than heatstroke. In the immediate situation, however, where this outcome is not clear, the team decide that it would be better to abandon the game, rather than continue, out of respect for our teammate. The oppo agree with our decision and the game concludes on that basis. No result, meaning a non-losing season overall.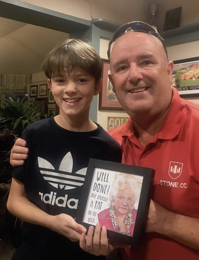 At the pub (and with one eye on news from DVH), the discussion centres on who will receive Stone's highest and lowest match day accolades for the final time this season. Will gets Big Pat for his debut wicket (and showing up his older sibling), while Walkie gets SBotD for being a miserable git, to quote a teammate. Plus ça change…