Our second fixture of the season against Ide Hill, this time hosting them at lovely Oakfield Park, and the weather is absolutely scorching. Thanks to some excellent forward planning, we have the benefit of a gazebo from Chungy's in-laws. This proves very helpful in the course of the day as the pleasant setting of the new ground means that we actually have some respectable spectators in attendance on a regular basis and not simply the ASBO crowd of the Womb. Once everything is set up and the oppo have arrived, Skipper gets things underway by calling correctly and winning the toss. Despite the blistering conditions, we opt to bowl first, largely on the basis that we can enjoy tea properly, it appears.
The bowling is opened by Walkie and Scrappy, both of whom keep things very tidy and the first 11 overs go for only 33 before the batsmen start to free their arms a bit. Continuing a theme from last week, a catch goes down but just the one this time. First change sees Skipper call upon the services of Alex East, making his debut for Stone. In keeping with a fine tradition from this season, he makes an impact straight away – a maiden over, followed by a wicket in his next. His five-over spell goes for just 7 runs and includes two maidens. At the other end, it is a welcome return for Jack Rogers, fresh from completing his first year at uni and making his first appearance of the season. He strikes in his third over to remove the other opener, with the catch held by Alex. Our roving reporter for the day (Camo, who has decided to pop along with his dog) breaks the news on WhatsApp: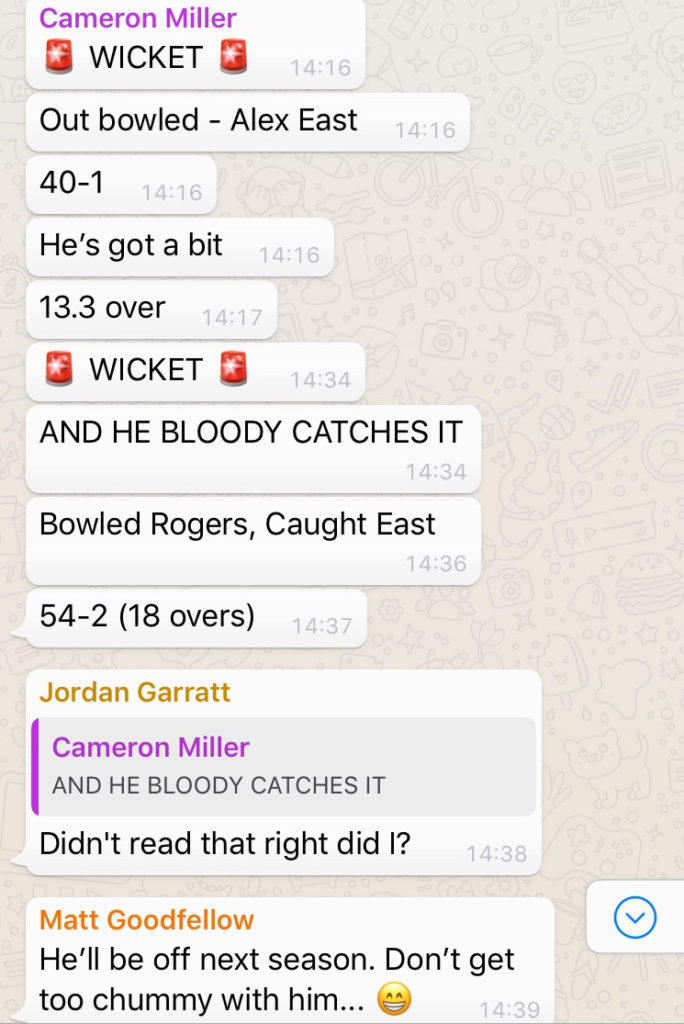 Meanwhile, on-field, in a fine piece of morale-boosting leadership, Skipper helpfully points out to all those who played at Bredgar that this is what they should have been doing. The message is a powerful one and Walkie has clearly been paying attention when, 16 overs later, he takes a catch (having volleyed it up with his hands at first, just to be extra sure that everyone could see him take it) from JJ's bowling. Ide Hill are accumulating steadily, but don't really get away from our bowling – there aren't many boundaries. Walkie takes two late wickets (finishing with 32-2 off 9) and the oppo finish on 165 for 5 in 41 overs.
Tea is provided by the family Jessup – i.e. Gavin and Alex, with JJ providing mainly transport from the car in the set-up – and is greatly appreciated by all present.
Looking at their target, the RRR is just slightly over 4 an over and certainly do-able in the circumstances. Alas, fortune vomits on us from the outset and, after 10 overs, we are 9-3. Skip departs for a rare duck after a watchful start, clean bowled. Chungy and Rich Pusey follow for 1 and 2, respectively, both snicking behind to the keeper. Up goes the cry of 'Anchors Away' as Stumpy strides purposefully to the wicket where he is joined by Jack. Mirroring the oppo's innings, the runs comes steadily, but the target is now to ensure that wickets don't fall and to put away the bad balls. The stand is worth 80 runs, with a flurry of boundaries late in Jack's knock before he is bowled on 43. Walkie comes and goes for a duck in the space of three balls, but Stumpy and Scrappy steer the side safely to a total of 102 for 5 by the end. Match drawn.
Despite the fact that beer has been consumed regularly throughout the day (the Jessup tea really was appreciated!), it is now back to the Malt Shovel for the usual awards.