With the weather being kind to us for a change, it was time to grab our kit and get down to Oakfield Park for our regular fixture against Borden.
For those who don't know, the same fixture last year was a dark day in history of Stone, more so for our beloved Vice who captained on the fateful day when we got tonked by a Borden side who gleefully told Vice afterwards that it was their first victory in three years, and just to add salt in the wound they asked him to take a photo of them celebrating afterwards! (To be fair we had eight players and a junior borrowed from Borden). As the Vice said earlier in the week, we needed to exact revenge and thus restore our credibility.
So with revenge ringing in our ears, vice decided it would be best to miss this and organise something for his dad's birthday instead. With regular Skip Lord Rossington also absent It was Jack Rogers who was appointed captain for the day, once Jack won the toss and elected to field it was then we had to appoint a Wicketkeeper, step forward Dartsy who was making his first appearance in well over a year, and thus saving ourselves the prospect of a novice having to do it. With the smell of deep heat lingering in our nostrils (standard Glenn aroma) we dragged ourselves out for our half hearted catching practice before letting battle commence.
Fresh from being given the runaround by McDonalds that morning, Walkie took the new ball who along with Alex bowled tidily without early reward. After having a chat with Dartsy, Walkie decided to come around the wicket and with the first ball the opener edged it straight between keeper and slip, however not to be outdone next ball the Borden captain popped one up to cover to be caught by Andy for 4. Next over Alex, bowling with control and swing, got the other opener caught at short mid wicket by Tom also making his first appearance of the year. After 14 overs Borden were going nowhere fast and at 21-2, Jack opted for a double change with himself and Dory coming on to bowl. Jack struck immediately as the next batsmen was caught by Harrison (fielding for us as a sub) before Dory struck twice in an over, one of them a blinding catch by Alex at point from a rank wide delivery! Jack struck again in the next over as Borden struggled to gain any momentum, Dory then struck once before delivering a head high beamer at the next batsmen (a 10 year old girl!!). After twenty overs, Borden were struggling at 30-7. Captain Jack then decided to make more bowling changes, bringing on the pace due of Pusey & Keenan, for the first 6 of these overs nothing much happened as Smith (sole remaining senior batsmen) & Williams (9 years old) struggled to put any pace on the ball and dead batted the dastardly straight one. Eventually though Smith tried to force the issue and was caught behind one handed by Dartsy off the bowling of myself. With the score on 38-8 off 30 overs, Semtex Keenan is removed from the attack for being far too economical for his own good (5-3-3-0) and Jack brings himself back on and proves it was the right decision by being clubbed for 4, the only boundary of the Borden innings… Two balls later the young dasher is caught one handed at cover by his teammate (sub for the sub). Eventually, with almost everyone within 10 yards of the bat the young lady's resolve (41 balls) is broken and she tamely steers one to Tom at slip for 0 to end the innings. Borden 42 all out. Everyone bowled well Alex with 1-5 off 7, Walkie 1-11 off 7 doing the damage at the top before Jack 3-11, Dory 3-6 and myself 2-5 all chipped in with wickets down the order.
Excellent tea provided by Paul, though it is a fairly quiet affair understandably from the opposition, but nervous anticipation from the Stone batting line up. Would we march to a comfortable ten wicket win? Not likely, as Stone like to serve up drama and panic and make even the smallest totals look tricky. Glenn and Andy stride purposefully out to bat, but unfortunately Glenn is back within five minutes having slapped a wide delivery to cover off the toe of the bat for a 3-ball duck, Tom comes in at three and plays a perfect lofted straight drive but ultimately it is at thin air and he has his stumps re-arranged also for a (4-ball) duck. We are 8-2 off three overs – told you we like a bit of drama. Andy and George then set about the target steadily, Andy picking his fielders as numerous shots go in the air and drop safe as he struggles to time the ball on a slow pitch, and George who when he used his feet managed to time a couple of boundaries. Andy eventually perishes with 2 needed for victory for a nuggety 20. Jack comes out to join George and next over hits the winning boundary to seal a seven wicket victory in just under 11 overs. Jack finished on 5 not out with George on 19.
A quick 10/10 game followed with Stone getting 72, before Borden replied with 44. A good day was had by all. Credit to Borden for sticking at it and for lending us a sub fielder for our 10-man side.
Decamp to the Malt where preparations are well under way for Mick's 60th birthday bash, but first things first… the awards.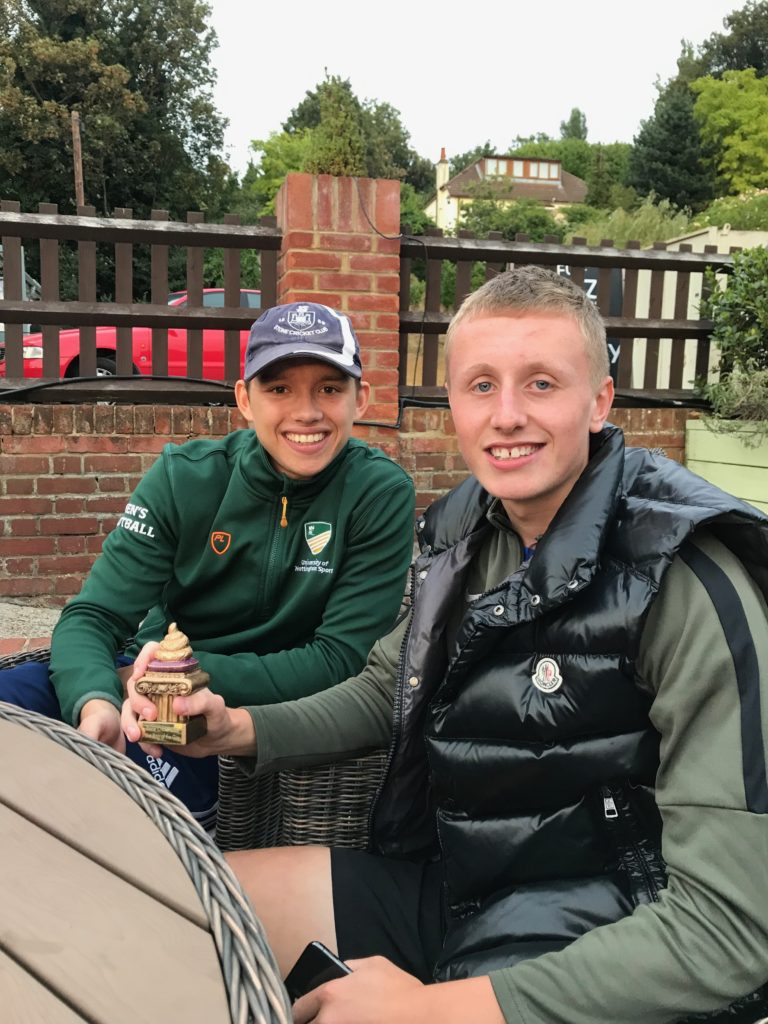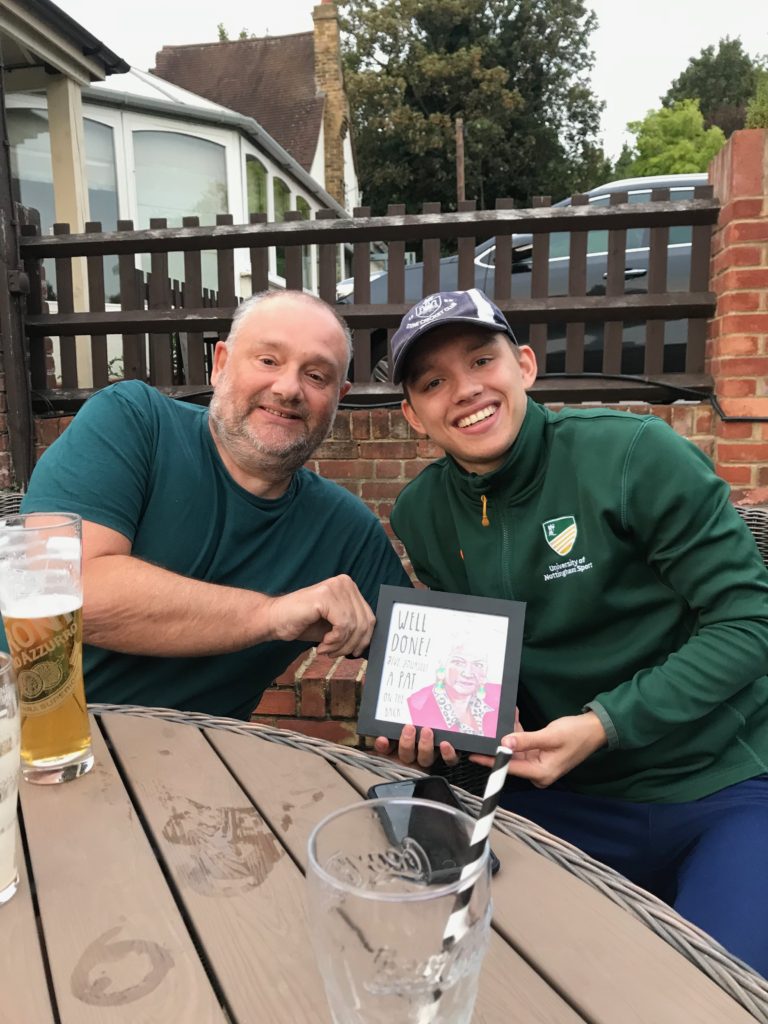 Vice and Scrappy both come over to hear the tale of how we won (twice), adding their congratulations. In fact I'm sure I even saw Vice taking notes for next time…
– Rich