This week's opponents were Bredgar, a team that we've had some good contests with in recent years but only ever played at our place (at least, in my time with Stone). This detail will become more important as this report unfolds. Bredgar is a very pleasant village in Kent, not far from Borden, the fixture we lost to the weather the previous week. Conditions were, fortunately, much better this time, morale was high in the team, and it was shaping up to be a good day to play cricket – what could possibly go wrong… Maintaining a very welcome trend this season, we are fielding yet another debutant for Stone CC, Andy Pyman, courtesy of Vice's social and professional circle.
The first thing that strikes all of us as we gradually drive at Bredgar's recreation ground is that it is what would charitably be called a 'compact' ground, particularly the square boundaries. The second thing is that the neighbouring houses present something of a tempting target, as the photo below demonstrates: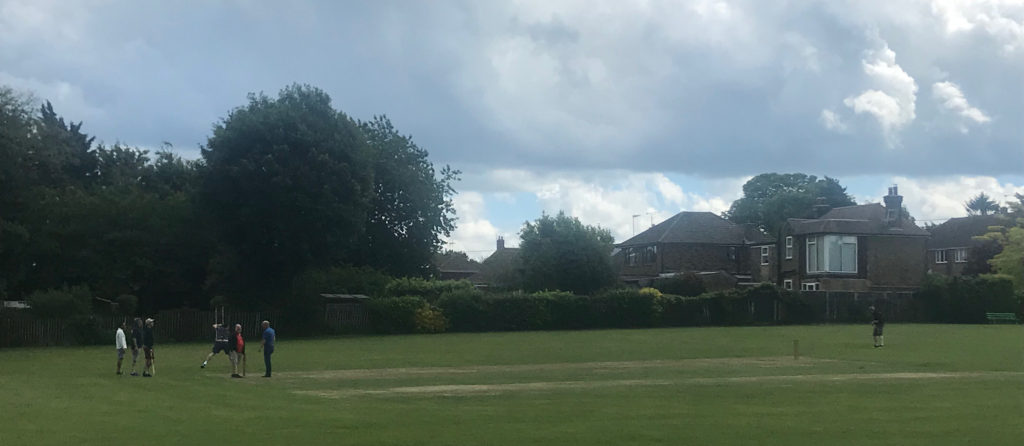 'Has anyone ever hit those windows?' asks one of our more ambitious (and, as it transpires, optimistic) young batsmen. The answer is negative, which serves only to present a challenge that some will find difficult to resist. The toss is negotiated and, since we generally prefer to bowl first, Bredgar agree to bat first. We soon discover why this is such an easy decision for them to make and the meaning of the phrase 'home advantage'. Simply put, they muller us around the place from roughly the sixth over onwards. Much of our bowling couldn't have been more mullered unless the punishment was being dished out by one of Germany's greatest ever players, batting with a fruit corner yoghurt in one hand! The opening stand is worth 183, only ended when Cameron gets one to beat a forward prod and bowls their captain (for 57). At the other end, his partner keeps going and eventually takes pity, retiring not out on 131. The only other wicket we get is a run out (again, charitable on their part), and Bredgar finish on 285 in the available time.
Now, it must be said that their batting prowess and the short-ish boundaries were not the only factors contributing to this mammoth total. We could not catch a damn thing all day. Although drops are not recorded in the scorebook, the consensus seems to be that a total of 11 were put down by various members of the team (those who didn't drop anything, more by luck than anything else, are in a distinct minority). Walkie is particularly unlucky with his bowling, being both the most economical (none for 25 in seven overs, with one maiden) and also having at least two dropped.
Bredgar can't quite believe our performance, as they make abundantly clear during the tea break. The tea itself is perfectly fine but certainly enhanced by my decision to go to the village shop and buy a load of beer.
Our run chase begins with Vice and Saddam opening the batting – Skipper is batting down the order as he is keeping wicket in Stumpy's absence. Runs come quite quickly, unsurprisingly, but (as is often the way with Stone) so do wickets. Vice falls for 8 off six balls, Walkie goes for a two-ball duck, and I depart after dead batting 13 deliveries for no runs. Stone are then 24 for 3. Sensing the need for stability and leadership, Skip wins Saddam at the wicket and they put on a decent stand of 89, before Ross pops one up in the air and is caught for 27. Blaine is going well at this stage, even if the rest of the innings isn't, and reaches his half century off 38 balls. Since the run chase is effectively over inside the first five overs, two goals become paramount: firstly, hold out for the draw; secondly, support the big man in getting as high a score as possible.
Camo is next in at 6, provides good support, and plays some nice shots, but departs for 7 with the score on 148 for 5. Sash comes in and drops anchor, which allows Blainy to get his richly-deserved century (his first for the club? and certainly the first for Stone CC in quite a few years, as Dartsy will subsequently remind everyone). However, joy is short-lived as he then departs next ball. Jez gets a streaky 2 and is then clean bowled, Gavin gets a golden duck, and Andy gets a 3-ball duck in the space of the next three overs, with Sash resembling the boy who stood on the burning deck. However, appropriately with the tension reaching 'boiling point', Edd takes matters in hand to resist for the remaining 11 balls and Sash scores a consolation run off the last ball to end 2 not out. Match drawn and Bredgar are not heartbroken in the circumstances, having dominated throughout and scored a shedload of runs, but may push us to play overs next time. 
There's no local for Bredgar so we head back to the Malt Shovel for post-match analysis (i.e. me filling in the scorebook), congratulations (to Blainy only), and recriminations (for anyone who dropped a catch). Unsurprisingly Saddam gets the much-coveted Big Pat for his century, while Walkie is the SBotD for a fashion crime – wearing white socks and what I believe young people call 'sliders'. He protests, naturally, but in spite of this photo, he doesn't have a leg to stand on.