Another long-awaited match report, thanks to its clash with exam-marking at the end of the academic year, but fittingly both the final grade and constructive feedback for Stone CC are encouraging as *drumroll* we have won for the first time this season and in front of a bumper crowd (all seven of them) at our new home, Oakfield Park. The visitors, Reigate Priory's intrepid VI-Kings, were welcome guests last season for their bonhomie, particularly from their skipper, and they proved excellent guests again. It is a scorcher of a day, in stark contrast to preceding weeks, and it looked likely to be an endurance test in the field as much as anything else. Following a negotiated toss, when they volunteered to bat first, we took to the field with yet another debutant player, Richard Drew (nickname to be confirmed), and another returning for the first time since last season, Joe 'Hangover' Stevens. The latter had been on a strict training regimen in preparation for at least a day (pictured below).
Walkie and Sash open the bowling, keeping things under reasonably close control. The visitors reach 18 off the first six overs and then the pressure (and good placement by the skipper) tells – Walkie finds the edge and Vice takes the catch at slip. Thereafter, the run rate drops as their other opener settles in for a long stay (I see from their skipper's notes that he is known as the Barnacle). Finally, in the twenty-first over, Double-0 Dino (OHMSS) induces their number 3 batsman to drive uppishly to Vice at mid on. Enter their rakish fourth batsman – I call him that simply because he turned up in an Aston Martin, it's not like he plays any fancy shots or anything. He hangs around as a support act for another five overs, then snicks one to the slips from JJ's leg spin – they are now 68 for 3, off 26. The next batsman (who their skipper notes should really have opened) can play a bit and together, he and their opener put on a stand of 44 before the opener is snared by Chungy for a well-played 47. It is now 104-4 from 34 and we sense that the end is not far away. Walkie returns to bowl their number 6 for 4, then Sash finally gets his reward in his second spell by bowling the well-set number 5 for 24. Their last wicket in the time available falls to a run out and they close on 125, with 41 overs bowled in 2.5 hours.
Tea, provided by Dino, was very pleasant – the new pavilion and its facilities (including the balcony) make for a much nicer environment than Wombwell's distinctive atmosphere of urban decay / winter of discontent / DMZ / shit-hole.
Duly refreshed, our openers head out to start the reply and it's a fairly rapid-fire one. By the time that the skipper bunts one up attempting the cut, the score is 43 off 6 overs, with Vice leading the charge. Their scorer, who is sitting beside me on the balcony, remarks that we should be done in plenty of time for the Champions League Final. Seeing Stumpy heading in to bat, I opine that a) things might slow down a bit now, and b) Stone have greater potential to wobble than a fat bloke on a trampoline. Lo and behold, events bear out my assessment. Vice is first to go, having scored 36 (from 31 balls), then we contrive to lose three wickets in the space of a single over. Stumpy departs for 3; Richard is then caught for a golden duck; and Hangover doesn't hang around for his own (three-ball) duck. The score is now 54 for 6, with Chungy yet to score, and the opponent are scenting the blood in the water.
However, I'm next man in and, like a spoiler sniping in an eBay auction, I'm determined not to let things go cheaply. A period of what might be generously termed 'consolidation' follows, where Chungy scores some runs and I deploy more blocks than a game of Tetris. With the pressure lifting, I manage to get a few runs on the board and Chungy plays some nice shots (three 4s, with one particularly nice pull shot amongst them). Alas, it can't last and he lifts one to mid wicket off the Aston Martin driver. Sashi joins me at the crease and the runs keep ticking over, albeit slowly. Luck is on my side, clearly, as a big outside edge goes over the slips and all the way to the boundary! Sashi is then bowled for 3 and I play through a ball too early to lift it rather tamely to the Barnacle standing at (roughly) Silly Mid On, having scored my highest total for Stone (14). That wicket gives the pick of their bowlers, Cossey, a five-for – fair enough in the circumstances. However, my innings has lasted long enough to see us close to the victory target, albeit with wickets at a premium, on 116 for 8, with Walkie and JJ at the crease. As it goes, Walkie sees us home in style with 11 off 9 balls (two 4s) and JJ doesn't have to face a delivery. Success! 125-8 from 31 overs.
Reigate take it in good spirits and, to some extent, are quite pleased that the game has concluded in time for them to get back around the M25 for the football. Prizes are handed out at the Oddfellows, the venue chosen by the team management to watch the dirty 'pool vs Spurs. For a Stone career best batting performance, and ignoring the fact that I dropped a straightforward catch off Walkie's bowling, I am honoured to be awarded the 'Big Pat'. Looking at the photo, you'd have to wonder whose beard would be more straggly: mine or hers…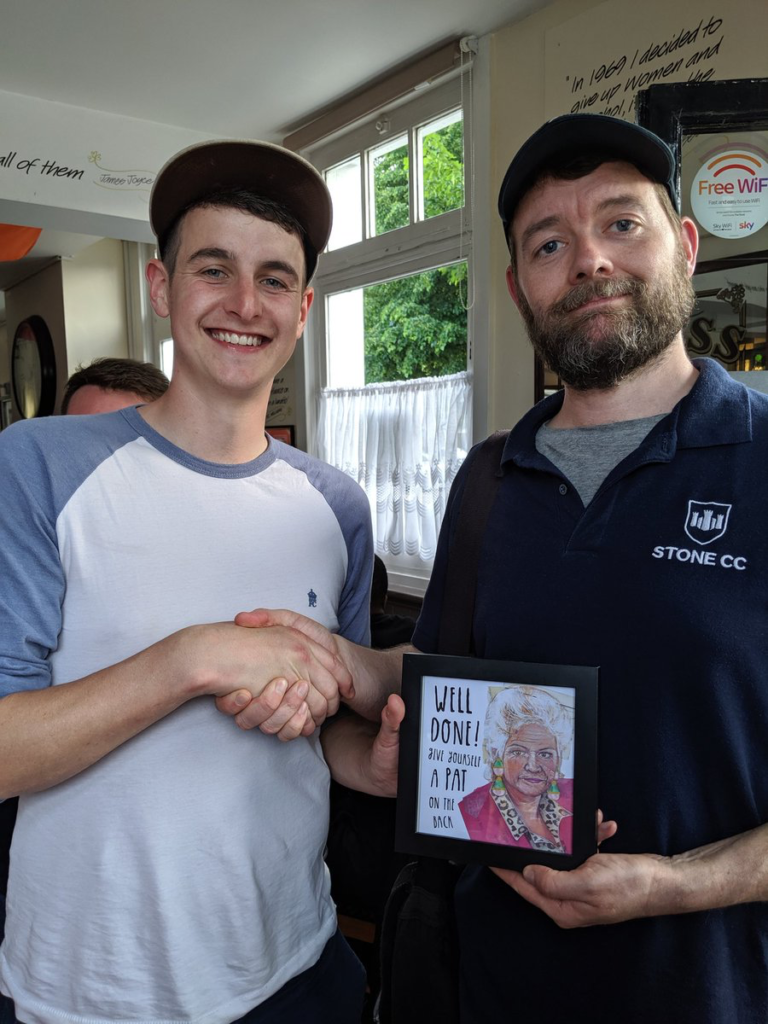 For his debut performance of a golden duck, Richard is given the SB of the Day, but is remarkably pleased to accept it. He has a future at this club with that attitude!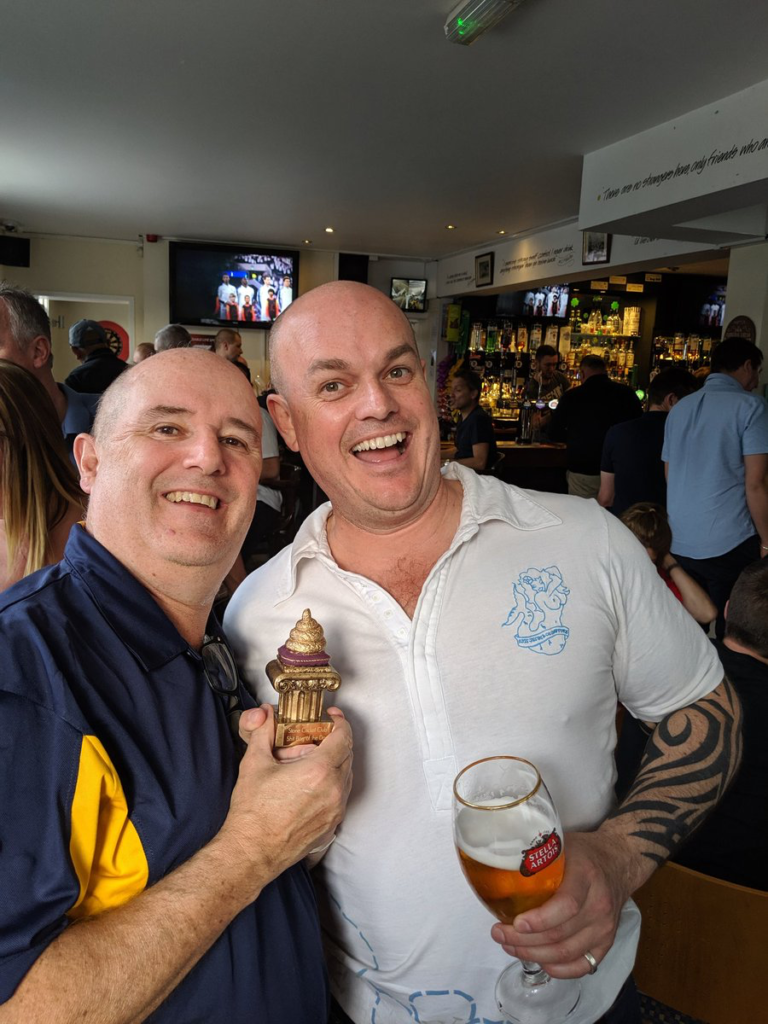 Overall, a good game and a great result, marred only by the dirty 'pool winning some Euro trinket later in the evening. They probably won't mention it much in coming years…