This report may be late but it will be accurate.
Another game at our lovely home facility and, if you have not been there yet, you should play as soon as you can.
So, old foes and friends Foxbury come to play and as usual we negotiate the toss and they are happy to bat first in a timed game (the fools). Sash and Scrappy keep things very tight with the bowling while we were a bit loose in the field. We gave their best player at least three lives including the failure of a brilliant plan – executed superbly by captain and bowler, but failed in the catching. I cannot say who dropped that sweet catch, or mention the humbug feeling I felt, but never mind. The bowlers kept it tight and we had them 119/4 from 27. Surely they wont get many? Sloggers came in (if they played for us it would have been batsmen with good eyes) and somehow they reached 191! The addition of 21 wides and 9 no balls helped them a good deal. Double-0 Dino was just the pick of the bowlers with 1/25 from 8 overs but ably backed up by Chungy with 2/17 from 4 and an economical Scrappy with 0/27 from 7. Special mention to Gavin "G Man" Jessup (you can replace Man with Spot but that means we will never find him) who snagged his first wicket for the club with an unplayable delivery. (Is the cheque in the post or will it be cash, Gavin?)
A Northern Irish tea was enjoyed by all!
We batted and struggled from the off. Saddam and Skip trying to get going but to no avail. The rest that followed managed to hang around but hardly a decent score amongst us. Second best score was extras with 16 but thankfully our Skip showed his promise, and added his weight of experience, to end up 50 not out and so we salvaged a draw with a paltry 97/7. Foxbury have indicated quite strongly that it will be an overs game at their place next time. I cannot think why!
Still, it was a great day and a great game played in a great spirit. The only blip being the old fellow for them who shouts "good arm" every time one of their fielders runs for the ball. More boring than a northerner banging on about how good (no it isn't) the north is.
If I have learnt one thing this season, it is to write the report straight after the game.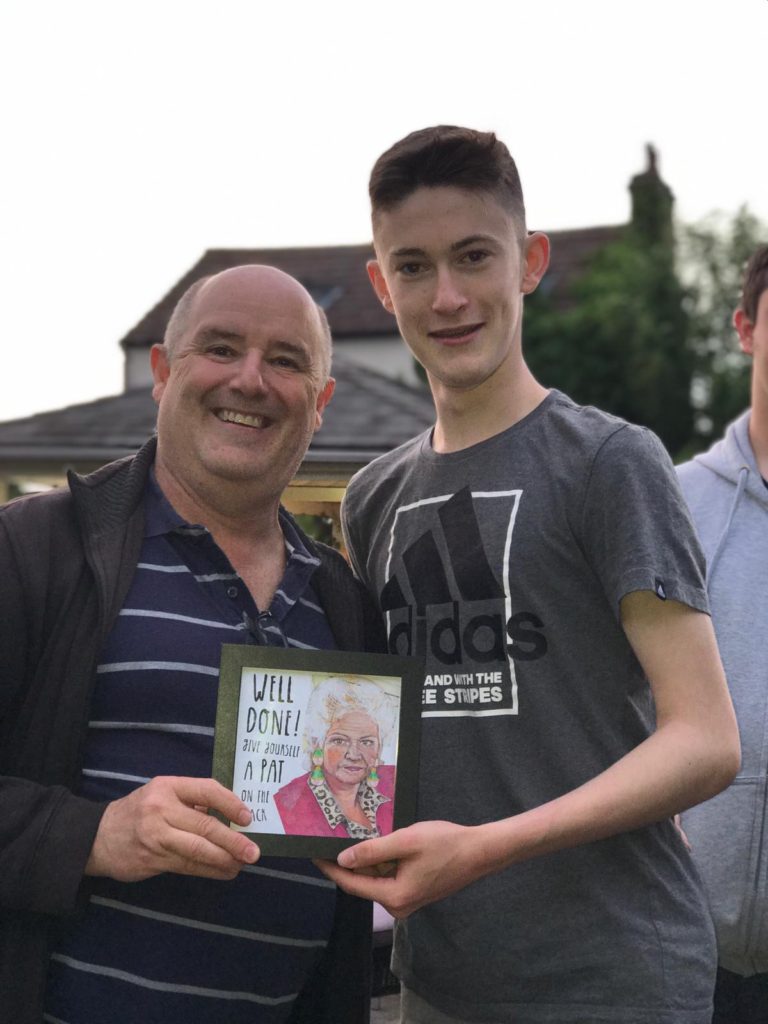 Addendum – the Skipper is being (uncharacteristically) modest in neglecting to point out that he received 'Big Pat's Big Pat on the Back' (presented to him by young James).
On the other hand Sashi was awarded the golden SBotD for a combination of pathological appealing in the field and not coming to the pub for the third week in a row (accepted on his behalf by Walkie) – ed.