To say we had it all in our opening game of the season would be an understatement.
Blue skies, grey skies and hail. Runs, wickets and *cough* ducks.
It was a game that will live long in the memory for some of our players, others not so much.
Opening our campaign was the dynamic duo of Skipper and Vice. Strolling to the middle, the plan was set. See what the pitch is doing, hit the bad ball and make calm inroads to a decent score by drinks. It was going well too… for the first three balls at least. Then Skip decided it'd be a good idea to test the reflexes of the opposition by clipping a full toss to the man standing at point. Unfortunately, unlike ourselves this guy could catch. Skip out for a duck, Stone 0 for 1.
In at number 3 and ready to steady the ship was Richard "Dickey" Pusey. Together he and Vice batted away for nigh on 10 overs, putting on 35 for the second wicket partnership. It was the first of hopefully many fruitful innings for the Vice Skipper as he raced to his maiden half century off 31 balls. Granted, he was dropped on a couple of occasions but unlike the skipper he chose his fielder well.
With the fireworks in full flow at one end and Dicky P back in the pavilion, Dave Stumpy Stumpo came to the crease to open his 2019 account. Picking up where he left off from last year, the runs continued to flow and Stone were progressing well, 104 for 2 off 18.
Sadly, all good things must come to an end. Going for one big shot too many in the following over, Vice was caught in the deep for a career best 83 off 56 balls (12 x 4s; 2 x 6s; S/R: 148).
In at number 5 was Nick Slater. Slates got off to a quicker start than his Brighton marathon by bashing a 6 of his fourth ball en route to a solid 31 from 39 balls. His wicket saw the first debutant introduced to the fold, Sash Sekhar. Joining us from a local rival, Sash showed promise early on in his innings before being deceived by a slow ball, departing for single figures. It was a similar situation for Scrappy as it was for Sash, looking good early doors before being caught out by one that kept low sending the bails flying.
As the innings drew to a close, Stumpy, still n.o. and joined by Walkie Talkie, brought up his first 50 (of the season, sigh) from 76 balls with the final few balls remaining.
Stone finished on 187 for 6.
Opening the bowling was Walkie Talkie and Stone's premium marathon man, Scrappy. Walkie Talkie must've upset the Skipper at the Monday night quiz as he was given the unenviable task of bowling uphill, into the wind.
Despite the hurdles thrown at him however, he bowls a genuinely fast and (mostly) accurate spell that was unlucky go wicketless.
Now, I could leave that there…
But I won't as we're not that kind of club.
As much as we like to draw attention to our successes, it's also important to celebrate our failures just as much and it'd be rude of me not to recap why Walkie Talkie doesn't have a wicket to his name in 2019.
Drop 1. Ball hit hard to square leg, newcomer Sash gets a thumping shot into the stomach and it unable to hold on. Verdict: Simply unlucky.
Drop 2. Ball hit hard to mid-wicket to the waiting armsStone pro Slater unable to hold onto the ball. Verdict: Tough chance but possibly could have done better
Skipper announces to the opposition batsmen "Don't worry, we always catch it on the third go"
Drop 3: Ball dollied into the air in the mid-off region. Players looking to run in from all directions before Skipper confidently declares "Rossington's!!" and the ball goes through to the ground below. Verdict: Contender for dolly of the season.
Still needing 10 wickets to win the game Skip turned to the first of our secret weapons, Sash. With expectations high, Sash more than delivered with the ball causing the opposition batsmen no end of trouble. After an exceptionally tough chance went down in the slips (the fielder's name strangely evades) the debutant eventually picked up his first wicket for the club and finished with figures of 1 for 21 off 6 overs.
At the other end, 00 Dino was introduced for the first of two spells. Bowling in unfriendly spin conditions, Stone's leading wicket taker in recent seasons pulled out all the tricks (including the chequebook) to finish with 3 wickets for 50 runs off 7 overs.
The second secret weapon was our other debutant, James Jessup (nickname TBC). It's fair to say the young leg spinner experienced a tough introduction in his first six balls. Undeterred however James had the last laugh when he got his man the following over, 00 Dino pulling off a tremendous diving catch to put the game well and truly in the balance.
Who do you turn to when the game is in the balance? Nick Slater of course. Bowling as well as I've seen him bowl in years, Nick (28 for 1 off 7) was able to restrict the opposition when they threatened to sneak over the line. His last over, with them needing 6 from it went for a measly 4 runs. Ide Hill finishing on 183 for 7.
Result: Winning draw
It was a great way to start the season. Looking forward to opening our account at the new home of village cricket this weekend.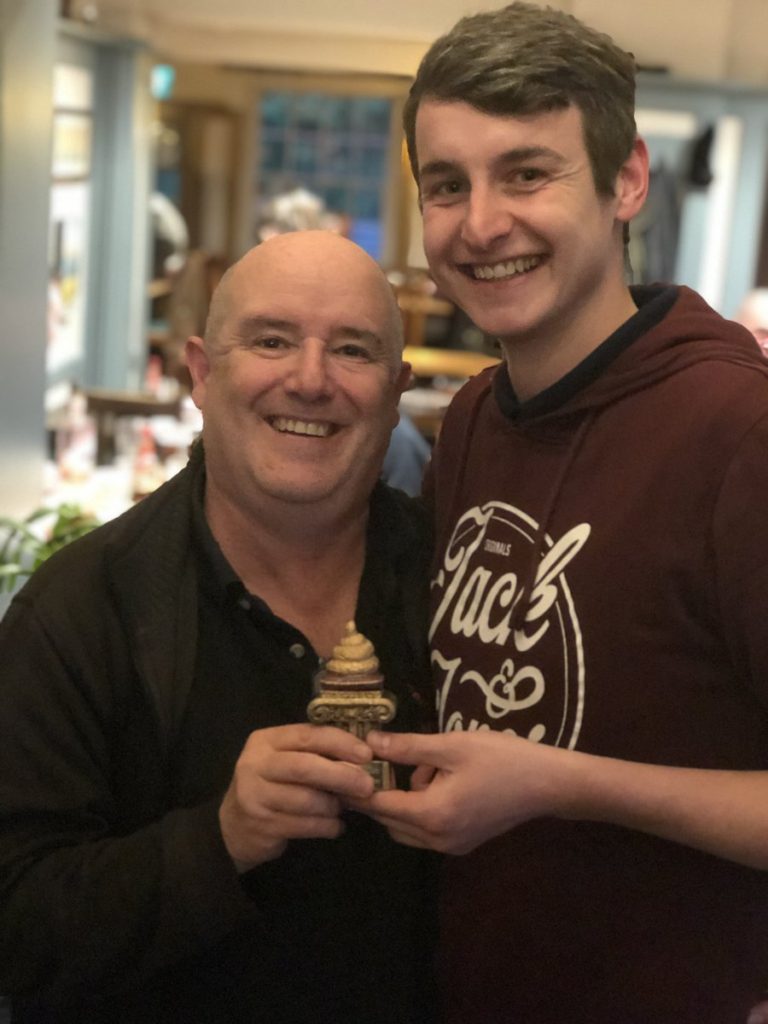 Sh*tbag of the day went to our Captain Lord Rossington for his duck and dolly of the day.
The newly founded award, Big Pat's Big Pat on the back (Player of the day) went to our Vice Skipper for top scoring.